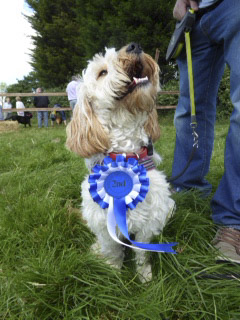 Getting our cockapoo Peggy was the best decision we have made in a long time; joining Leaps and Bounds was the second best. Tammy and Kate are incredible: they have an amazing natural affinity with dogs, understanding what makes them tick and how our behaviour affects theirs. Peggy was a very feisty pup (to put it mildly) and caused us quite a lot of stress in her first weeks and months, as much as we adored her from the outset. Now she is the most wonderful little dog, thanks to training classes and puppy play sessions at Leaps and Bounds; she and we have learned so much. In addition, we have had three one-to-one sessions with Tammy and Kate, helping us with excessive play-biting, poo-eating and frustration barking. Within moments Tammy and Kate can see the problem and its likely cause, and have formulated a plan. In each case we have taken the advice and, quite simply, it has worked. Tam and Kate have taught us how to be good 'parents' to Peg and it's changed everything. And not only are they incredibly skilled dog trainers, but they are fun, kind and warm-hearted — just wonderful people all round — and I wouldn't hesitate to recommend them to any dog owner.
Ali and Ade Mander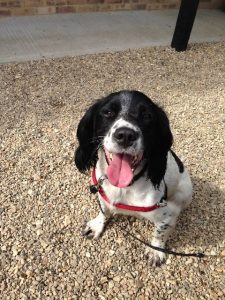 We contacted School4hounds looking for help with our rescue Spaniel, who was not well socialised and irregularly aggressive to other dogs. We started with a series of one-to-ones with Tammy and her team to figure out what was happening, and after a short time Tammy was able to give us a training plan to work through which approached the problem from many different angles. We followed this as closely as we could, and saw immediate results. Our Spaniel has now progressed into group training sessions and getting better around other dogs all the time. We know he'll probably never be 100% 'fixed', but we are all much more relaxed, happy and able to manage the situation with the tools provided by School4hounds. We've also immensely enjoyed the training that we went through as well as our dog, and the amazing bond its intensified between us all.
Kat Shutt & Gunniess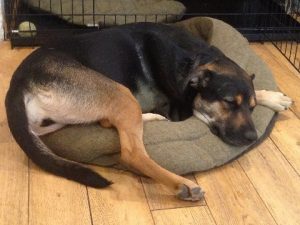 I have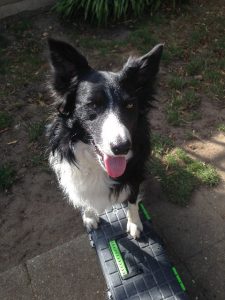 2 rescue dogs who both came with numerous issues: behavioural or bad manners! The trainers at Leaps & Bounds- Tammy and Kate have both been fantastic. Offering both 1:1s and classes they have both advised my husband and I (who have never had dogs), on what we need to be doing to help our dogs and breaking the bad habits they came with! Tammy and Kate are very patient, understanding and make training fun for all involved! It is obvious they both love dogs and their work, as they are constantly busy working to support as many dog owners as they can and will still try to fit you in. Tammy and Kate have done wonders for our 2 dogs, and I feel much more confident in knowing what I need to be doing to maintain their progress. Thank you both so much for all that you do!
Emma Hartley with Lad and Jess