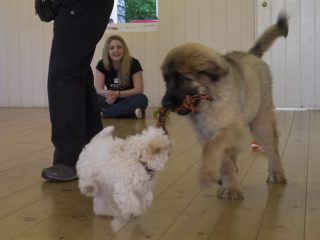 Puppy Play is a supervised play session allowing puppies from the age of eight weeks who have received their first vaccination to begin their social education.  This controlled interaction gives the puppies the opportunity to begin learning the social skills required for a well balanced, confident adult dog.
Once registered with Leaps and Bounds, you and your young puppies will be able to mix freely with pups of all shapes and sizes of a similar age.  Giving them the opportunity to enjoy learning doggie etiquette through play.
Your puppies will also have the chance to meet all kinds of people from the young to the elderly, from shy and quiet people to the more flamboyant.
This is the most important time for you to start exposing your new puppy to as much as possible in this big world of ours.  We would like to invite you and your pup along to help start your journey together in a safe, sterile, supervised and friendly environment.