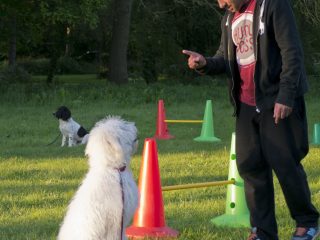 This more intensive course takes the training one step further, giving your pup new challenges, making them really start to understand what is required of them.  We will teach you how to gain off lead control of your puppy and enhance your recall by introducing distractions.
It is important when training young puppies to maintain confidence levels, so introducing new, more challenging tasks can be easier for some more than others depending on many factors.  Because of this each individual puppy and handler will be advanced depending on their own abilities and requirements.
During this course basic skills already learned will be practised and polished alongside the new exercises.  Completion of successful tasks followed by praise and reward will help build the confidence of both you and your puppy.
Many people choose to repeat this course to challenge their pups on a weekly basis, giving both you and your pup new ideas to work with at home.