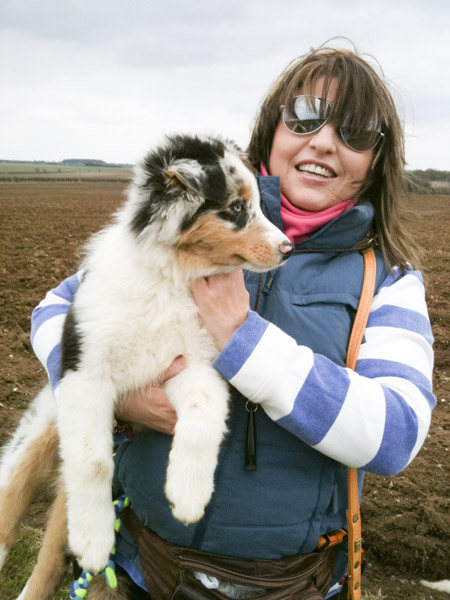 I founded Leaps and Bounds School For Hounds in 2008 having spent the previous ten years working with dogs for a Cambridgeshire based training school. I started as a trainer with this school in 1998 and went on to manage it and then own the school, which ran as a very successful and enjoyable venture seeing up to one hundred dogs per week.
I then decided to localise the business and give it a fresh new name and image and hence LEAPS & BOUNDS SCHOOL FOR HOUNDS was born.
I have been an accredited member of the Associated Pet Dog Trainers (APDT) for over 15 years (00902).  I have attended many courses over that time in topics ranging from running classes to behaviour issues and nutrition.
I've always worked in a customer facing environment, which has given me the skills to be both friendly and approachable in any given situation. I pride myself on being professional, whilst maintaining the most important part of any working relationship which is FUN, FUN, FUN!!!!
I have owned my own dogs from the age of eighteen, which have mainly been German Shepherds. I've had puppies from the age of eight weeks and I have also re-homed older dogs. I have previously owned up to three dogs at a time, so I understand how important it is to have well mannered/well behaved dogs.   At the moment I currently own a 3 year old Australian Shepherd called JJ, who is a very intelligent and highly energised member of our family.  We also have a 5 year old Shetland Sheep Dog called Little Minx, who belongs to my daughter, but works for me as a stooge dog.
So with nearly twenty year's worth of experience and knowledge I can confidently train and advise you to train your pup to become a well mannered, confident, happy member of your family.