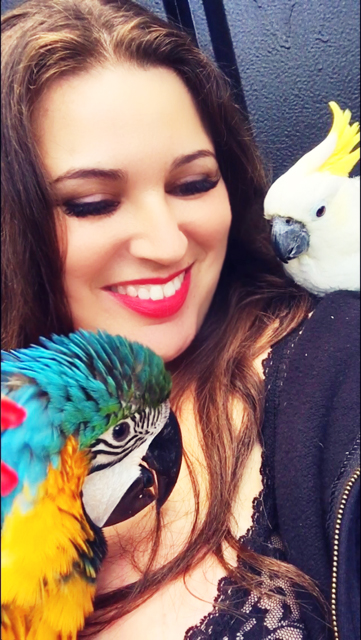 Hi I'm Natalie.
I was born and raised in Australia and from a very young age I've worked with animals.
I've had dogs my entire life and my current dog 'Dobby' the rescue Jack Russell, was a very challenging subject indeed. I took him on with severe aggression issues.
He wanted to attack everything! People, cyclists, horses, other dogs and birds where all on his hit list.
The moment I agreed to take him, he turned and leapt up at my face, and I thought "What on earth have I just undertaken?"
After consulting with Tammy, we set out a training plan and after 6 months he was 99% better!
He now lives with dozens of chickens, geese, turkeys and other animals. He even lays with them sometimes and goes to sleep in the sunshine!
My background is in wildlife rescue and rehabilitation with orphaned and injured animals.
In Australia I rescued and hand reared kangaroos, koalas, wombats, possums, fruit bats, snakes and reptiles, as well as many birds species including parrots, emus and kookaburras.
Upon leaving Australia to travel, I worked with many more species around the world. Lions, tigers, bears, crocodiles, Asian elephants and even porcupines!
Now that I live in the UK, it's foxes, badgers, hedgehogs and all our other wonderful native wildlife.
I also have 6 large rescue parrots and I'm training the big macaw to free fly outside, something which shares its training basis with canine recall training. I use positive reinforcement clicker training with all my parrots….which sometimes confuses my dog! He oftens wants to join in the training sessions and he's now quite happy to perform for a sunflower seed!
I have seen first hand how dramatically positive reinforcement training can totally transform aggressive and scared animals into absolutely wonderful companions.
I'm so lucky to be part of an amazing team of like minded trainers.